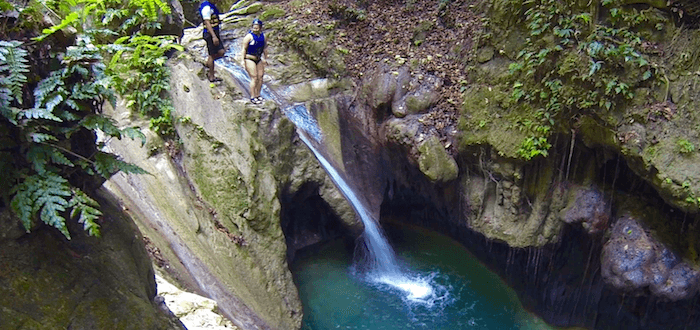 27 Waterfalls
Description
The original and best known of the islands falls, this popular Dominican Republic excursion starts with a moderate hike of around 45 minutes that leads up to the top of the falls where the real fun begins as you jump, slide and swim your way back down to base camp, emerging with a silly grin on your face and memories to cherish.
Jumps of up to 8m/25ft but don't worry — you can take a stroll around instead, if you don't feel comfortable with the heights. You'll enjoy a typical Dominican Lunch at a local restaurant when you have finished the waterfalls. IMPORTANT NOTE: When water levels are low some jumps might not be possible.
Round trip transportation
Guided hike
Safety Equipment
Typical Dominican lunch
Limited drinks
Swim wear
Towel
Sun lotion
Spending money
(although food and drink is included, you might want to buy breakfast on the way or some souvenirs!)
DEPARTS AROUND: 6:30am
RETURNS AROUND: 7:30pm
Photos
Terms and Conditions
Please note tours are not run everyday – please contact us for availability and to book. Payment is required in advance in USD or Dominican Pesos – credit cards are not accepted.
Tour are run by a local company – although arranged by us we cannot accept responsibility for the description of the tours as they may differ from what is written in the descriptions.
It is the guests responsibility to ensure they are up in time for the tour. No refunds are given for cancellations or missed tours.